.......LATEST NEWS.......Wednesday May 25, 2016.......LATEST NEWS.......
OPEN LETTER
April 4, 2016
Dear Ms. Eisenberg:

When President Obama ran for President of these United States, his campaign slogan was, "Change you can believe in." I have read your response to Mr. Lawrence Lucas, President Emeritus, of the USDA Coalition of Minority Employees, dated March 4, 2016. We find it difficult to believe your response is the result of having read the voluminous documentation we have sent to, Stephanie Young, with the White House Office of African American Affairs, and her staffer for the past five months. Over the years the Coalition of Minority Employees has sent many emails to Valerie Jarrett, Advisor to the President, going back as far as May 2011. Your response is an attempt to marginalize and trivialize the true intent of the Coalition's efforts to inform this White House of the widespread discrimination and abuse going on in and around USDA. We have sent this White House (current administration) a host of documentation that includes; information from congressional hearings, letters from congressional representatives, investigative reports, news articles, TV and radio interviews and broadcasts, and more, clearly articulating the depth of the continued abuse of USDA officials, including that of Obama political appointees. We find your response very disappointing, and it is yet another reminder that the promises of Candidate and President Obama have gone unfulfilled.

The problems at USDA are of a systemic nature and this is precisely how USDA earned the name, "The Last Plantation." As an example, I draw your attention to the attached May 18, 2015, Office of Special Counsel (OSC) report from Special Counsel Carolyn N. Lerner, addressed to the President of the United States in response to issues reported to the OSC by USDA employees who blew the whistle on the widespread and pervasive wrongdoing in the USDA Office of the Assistant Secretary for Civil Rights. The specific issue we have presented to you is the lack of leadership on the part of USDA Secretary Tom Vilsack and Assistant Secretary for Civil Rights Joe Leonard in their respective roles. That is why we are elevating our concerns and appealing to the President.

It is important to note that Special Counsel Lerner stated in her letter: "I have reviewed the agency's reports and the whistleblowers' comments and determined that the agency's findings are partially unreasonable. While the agency implemented reasonable corrective actions that appear to resolve the identified wrongdoing moving forward, these actions do not provide redress for already aggrieved employees. The agency should consider reviewing cases to determine whether harm resulted from delays, and how affected individuals could be made whole. Further, the reports demonstrate that OASCR has been seriously mismanaged, thereby compromising the civil rights of USDA employees."

It has been close to a year since this OSC letter was written to the White House, and to date nothing has been done about the "serious mismanagement" in the USDA Office of Civil Rights. Are we to conclude that the President is unconcerned as well? The USDA Office of the Assistant Secretary for Civil Rights and his management team have not responded to the White House OSC report. Likewise, I am certain that these same USDA management officials do not plan to respond to the USDA Coalition of Minority Employees. We have made several requests to Secretary Vilsack and Assistant Secretary Leonard to discuss and resolve these issues. However, they have not agreed to meet in an effort to reach a resolution to these longstanding issues. Therefore, we request that you arrange a meeting with the appropriate White House staff, and the President, to discuss ways in which the White House and the President plan to correct these very serious issues that have plagued USDA employees, farmers and customers nationwide. We are once again requesting the White House to address and correct USDA discrimination that includes: sexism, racism, rape, attempted rape, sexual and non-sexual assaults, bullying, reprisal, intimidation, harassment, racial epithet displays, and more. This type of White House intervention was necessary during the Bill Clinton administration and we had some success. We got the issues in front of the President and he took action.
There is still time for President Obama to make good on his many campaign promises of "Change we can believe in." The people who voted for the president deserve that.

Respectfully submitted,

Ron Cotton President
USDA Coalition of Minority Employees
(301)526-2992

cc: Valerie Jarrett, Advisor to the President
Stephanie Young, White House Office of African American Affairs
Leas Donnelly, USDA Coalition of Minority Employees
Lawrence Lucas, USDA Coalition of Minority Employees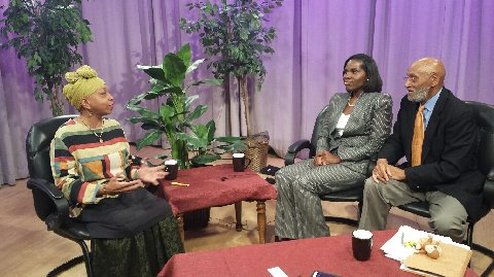 ---
Black Farmers History of
Racism & Discrimination
imposed by the Federal Government
---
Our Pursuit of Justice, Civility, Dignity, & Respect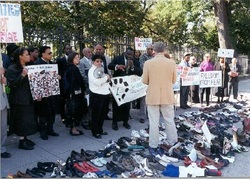 ---
White House Meeting With Vice
President Al Gore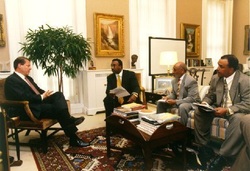 ---
US officials, black farmers defend USDA settlement after critical New York Times story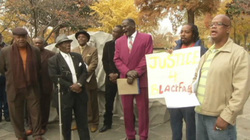 ---
The 5 Agencies with the Most Out of Touch Senior Leadership
---
Rally For Black Farmers
WASHINGTON INFORMER: No FEAR Whistleblowers Receive Awards
---
BLACK FARMERS JOHN W. BOYD JR. and GEORGE HILDEBRANDT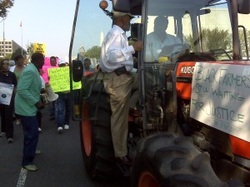 ---
Re Pigford Lawsuit: Studies, Reports, Articles, Book - 1960's to2013
Disparity Studies & Recommendations from U.S. Government and Non-profits along with some relevant articles and Pete Daniel's recent book "Dispossession"
---
Land Rights N Farming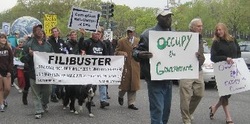 ---
Land Rights N Farming
Senator Charles Grassley Opens Whistleblower Summit and Recieves Prestigious "Pillar Human Rights" Award
---
USDA , JOE LEONARD, JR
---
Vilsack's USDA: Still Victimizing the Victim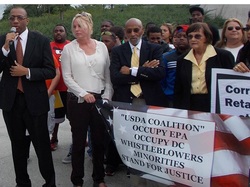 ---
Whistleblowers Convene-New York Times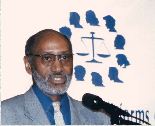 ---
Forest Service women seek contempt order against USDA secretary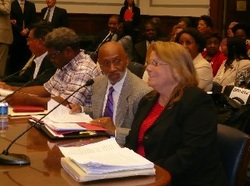 ---
President Obama Sign Executive Order: Mandate Discipline For Public Officials Who Break Civil Rights Laws

---
---