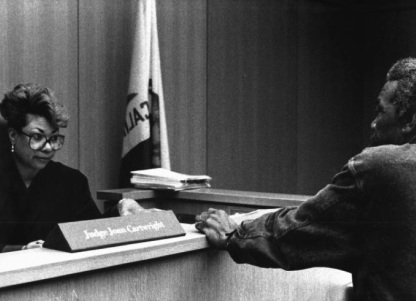 The War on Drugs and the New Jim CrowBy Michelle Alexander
Over since Barack Obama lifted his right hand and took his oath of office, pledging to serve the United States as its 44th president, ordinary people and their leaders around the globe have been celebrating our nation's "triumph over race." Obama's election has been touted as the final nail in the coffin of Jim Crow, the bookend placed on the history of racial caste in America.
Obama's mere presence in the Oval Office is offered as proof that "the land of the free" has finally made good on its promise of equality. There's an implicit yet undeniable message embedded in his appearance on the world stage: this is what freedom looks like; this is what democracy can do for you. If you are poor, marginalized, or relegated to an inferior caste, there is hope for you. Trust us. Trust our rules, laws, customs, and wars. You, too, can get to the promised land.
Perhaps greater lies have been told in the past century, but they can be counted on one hand. Racial caste is alive and well in America.
Most people don't like it when I say this. It makes them angry. In the "era of colorblindness" there's a nearly fanatical desire to cling to the myth that we as a nation have "moved beyond" race. Here are a few facts that run counter to that triumphant racial narrative:
There are more African Americans under correctional control today—in prison or jail, on probation or parole—than were enslaved in 1850, a decade before the Civil War began.
As of 2004, more African American men were disenfranchised (due to felon disenfranchisement laws) than in 1870, the year the Fifteenth Amendment was ratified, prohibiting laws that explicitly deny the right to vote on the basis of race.
A black child born today is less likely to be raised by both parents than a black child born during slavery. The recent disintegration of the African American family is due in large part to the mass imprisonment of black fathers.
If you take into account prisoners, a large majority of African American men in some urban areas have been labeled felons for life. (In the Chicago area, the figure is nearly 80 percent.) These men are part of a growing undercaste—not class, caste—permanently relegated by law to a second-class status. They can be denied the right to vote, automatically excluded from juries, and legally discriminated against in employment, housing, access to education, and public benefits, much as their grandparents and great-grandparents were during the Jim Crow era.
There is, of course, a colorblind explanation for all this: crime rates. Our prison population has exploded from about 300,000 to more than 2 million in a few short decades, it is said, because of rampant crime. We're told that the reason so many black and brown men find themselves behind bars and ushered into a permanent, second-class status is because they happen to be the bad guys.
The uncomfortable truth, however, is that crime rates do not explain the sudden and dramatic mass incarceration of African Americans during the past 30 years. Crime rates have fluctuated over the last few decades—they are currently at historical lows—but imprisonment rates have consistently soared. Quintupled, in fact. And the vast majority of that increase is due to the War on Drugs. Drug offenses alone account for about two-thirds of the increase in the federal inmate population and more than half of the increase in the state prison population.
The drug war has been brutal—complete with SWAT teams, tanks, bazookas, grenade launchers, and sweeps of entire neighborhoods—but those who live in white communities have little clue to the devastation wrought. This war has been waged almost exclusively in poor communities of color, even though studies consistently show that people of all colors use and sell illegal drugs at remarkably similar rates. In fact, some studies indicate that white youth are significantly more likely to engage in illegal drug dealing than black youth. Any notion that drug use among African Americans is more severe or dangerous is belied by the data. White youth, for example, have about three times the number of drug-related visits to the emergency room as their African American counterparts.
That is not what you would guess, though, when entering our nation's prisons and jails, overflowing as they are with black and brown drug offenders. In some states, African Americans comprise 80 to 90 percent of all drug offenders sent to prison.
This is the point at which I am typically interrupted and reminded that black men have higher rates of violent crime. That's why the drug war is waged in poor communities of color and not middle class suburbs. Drug warriors are trying to get rid of those drug kingpins and violent offenders who make ghetto communities a living hell. It has nothing to do with race; it's all about violent crime.
Again, not so. President Ronald Reagan officially declared the current drug war in 1982, when drug crime was declining, not rising. From the outset, the war had little to do with drug crime and nearly everything to do with racial politics. The drug war was part of a grand and highly successful Republican Party strategy of using racially coded political appeals on issues of crime and welfare to attract poor and working class white voters who were resentful of, and threatened by desegregation, busing, and affirmative action. In the words of H.R. Haldeman, President Richard Nixon's White House Chief of Staff: "[T]he whole problem is really the blacks. The key is to devise a system that recognizes this while not appearing to."
A few years after the drug war was announced, crack cocaine hit the streets of inner-city communities. The Reagan administration seized on this development with glee, hiring staff who were to be responsible for publicizing inner-city crack babies, crack mothers, crack whores, and drug-related violence. The goal was to make inner-city crack abuse and violence a media sensation, bolstering public support for the drug war which, it was hoped, would lead Congress to devote millions of dollars in additional funding to it.
The plan worked like a charm. For more than a decade, black drug dealers and users would be regulars in newspaper stories and would saturate the evening TV news. Congress and state legislatures nationwide would devote billions of dollars to the drug war and pass harsh mandatory minimum sentences for drug crimes—sentences longer than murderers receive in many countries.
Democrats began competing with Republicans to prove that they could be even tougher on the dark-skinned pariahs. In President Bill Clinton's boastful words, "I can be nicked a lot, but no one can say I'm soft on crime." The facts bear him out. Clinton's "tough on crime" policies resulted in the largest increase in federal and state prison inmates of any president in American history. But Clinton was not satisfied with exploding prison populations. He and the "New Democrats" championed legislation banning drug felons from public housing (no matter how minor the offense) and denying them basic public benefits, including food stamps, for life. Discrimination in virtually every aspect of political, economic, and social life is now perfectly legal, if you've been labeled a felon.
Facing Facts
But what about all those violent criminals and drug kingpins? Isn't the drug war waged in ghetto communities because that's where the violent offenders can be found? The answer is yes... in made-for-TV movies. In real life, the answer is no.
The drug war has never been focused on rooting out drug kingpins or violent offenders. Federal funding flows to those agencies that increase dramatically the volume of drug arrests, not the agencies most successful in bringing down the bosses. What gets rewarded in this war is sheer numbers of drug arrests. To make matters worse, federal drug forfeiture laws allow state and local law enforcement agencies to keep for their own use 80 percent of the cash, cars, and homes seized from drug suspects, thus granting law enforcement a direct monetary interest in the profitability of the drug market.
The results have been predictable: people of color rounded up en masse for relatively minor, non-violent drug offenses. In 2005, four out of five drug arrests were for possession, only one out of five for sales. Most people in state prison have no history of violence or even of significant selling activity. In fact, during the 1990s—the period of the most dramatic expansion of the drug war—nearly 80 percent of the increase in drug arrests was for marijuana possession, a drug generally considered less harmful than alcohol or tobacco and at least as prevalent in middle-class white communities as in the inner city.
In this way, a new racial undercaste has been created in an astonishingly short period of time—a new Jim Crow system. Millions of people of color are now saddled with criminal records and legally denied the very rights that their parents and grandparents fought for and, in some cases, died for.
Affirmative action, though, has put a happy face on this racial reality. Seeing black people graduate from Harvard and Yale and become CEOs or corporate lawyers—not to mention president of the United States—causes us all to marvel at what a long way we've come.
Recent data shows, though, that much of black progress is a myth. In many respects, African Americans are doing no better than they were when Martin Luther King, Jr. was assassinated and uprisings swept inner cities across America. Nearly a quarter of African Americans live below the poverty line today, approximately the same percentage as in 1968. The black child poverty rate is actually higher now than it was then. Unemployment rates in black communities rival those in Third World countries. And that's with affirmative action!
When we pull back the curtain and take a look at what our "colorblind" society creates without affirmative action, we see a familiar social, political, and economic structure—the structure of racial caste. The entrance into this new caste system can be found at the prison gate.
This is not Martin Luther King, Jr.'s dream. This is not the promised land. The cyclical rebirth of caste in America is a recurring racial nightmare.
Michelle Alexander is the author of The New Jim Crow: Mass Incarceration in the Age of Colorblindness (The New Press, 2010). The former director of the Racial Justice Project of the ACLU in Northern California, she also served as a law clerk to Justice Harry Blackmun on the U.S. Supreme Court. Currently, she holds a joint appointment with the Kirwan Institute for the Study of Race and Ethnicity and the Moritz College of Law at Ohio State University.
---

C4C COMMENTS - HARASSMENT IN FEDERAL WORKPLACE
EEOC Executive OfficerU.S. Equal Employment Opportunity Commission131 M Street, NEWashington, DC 20507
Re:
EEOC Commission Meeting - Workplace Harassment
To Whom It May Concern:
The Coalition For Change, Inc. (C4C), a non-profit organization comprised offormer and present employees who have been injured or ill-treated due to workplacerace discrimination and /or reprisal, is very pleased that the Equal EmploymentOpportunity Commission (EEOC) is focusing on workplace harassment. However,we are again disappointed that the EEOC has omitted any reference to the problems in the " federal workplace" which is just as pernicious as the private sector workplace. The C4C agrees with the EEOC Chair Jenny R. Yang's statement, made at theJanuary 14th forum, that ---"workplace harassment remains a persistent problem." Understanding this premise, the C4C asserts that the federal government, the nation's largest employer, needs to do better in addressing unlawful harassment within its ownranks. Toward this goal, C4C submits the following seven (7) accountability andtransparency measures to more effectively address the problem.
Measure 1: Announce Unlawful Violations via E-Notice to Employees
Measure 2: Issue Sanctions Against Agencies Violating EEOC Regulations
Measure 3: Post Class Action Complaints on Website
Measure 4: Post Federal Violations on EEOC Homepage
Measure 5: Disband Anonymity: Identify the Discriminating Official
Measure 6: Support Mandatory Discipline
Measure 7: Refer Actively and Post Referrals to the Office Special Counsel(OSC) on the EEOC Website
---
---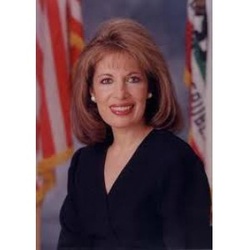 PRESS RELEASE





Congresswoman Speier Calls on USDA IG to Investigate Allegations of Sexual Harassment and Retaliation in Region 5 Forest Service
WASHINGTON, DC
– Congresswomen Jackie Speier (D-San Francisco/San Mateo Counties)
sent a letter yesterday
to Phyllis Fong, Inspector General for the U.S. Department of Agriculture, calling on the Inspector General to lead an independent investigation into allegations of sexual harassment, attempted sexual assault, gender discrimination, and whistleblower retaliation in Region 5 of the U.S. Forest Service. Speier was joined by Congressman Peter DeFazio (D-OR), Ranking Member of the House Natural Resources Committee, and Congressman Raúl Grijalva (D-AZ), Ranking Member of the Subcommittee on Public Lands and Environmental Regulation of the House Natural Resources Committee.
Recent reports in the
New York Times
and
High Country News
revealed a toxic work environment for female firefighters in this isolated region. One woman, Alicia Dabney, alleged that her supervisor put her in a chokehold and tried to rape her. She also claimed she received sexually explicit voicemails from her supervisor and found flyers calling her a "whore" in the fire station. While an investigation into the flyer incident did not result in any disciplinary action, Ms. Dabney was fired following her complaint. Six other women also claim that they faced retaliation after complaining to the Forest Service about sexual harassment.
"These allegations, if true, suggest female firefighters in this region have had to fight far more than fires in the line of duty,"
said Rep. Speier
. "Sexual harassment and retaliation can create an environment that makes this already dangerous work even more hazardous. The Inspector General must lead an independent investigation to determine the truth. If substantiated, these claims point to a culture that condones sexual harassment and retaliation against those brave enough to come forward."
"Claims of sexual assault, gender discrimination, and whistleblower retaliation in the U.S. Forest Service are deeply troubling and, if true, unacceptable,"
said Rep. Peter DeFazio
. "The Inspector General should immediately open an investigation into these serious allegations. The Forest Service needs to take real action to ensure the women risking their lives on the front lines battling these fires aren't also battling a toxic workplace. I applaud Rep. Speier for leading this letter, and will continue to work with her to force action by the IG."
"The women who have come forward in these allegations have placed their lives on the line for the sake of public safety – the notion that they had to endure sexual harassment in the process is utterly appalling,"
said Rep. Grijalva
. "These claims warrant immediate attention to ensure all firefighters, regardless of gender, feel welcome and appreciated in their heroic line of duty. We need a thorough and independent investigation, and I urge the IG to act as soon as possible."
---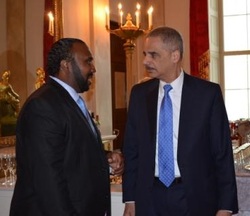 PRESS RELEASE
For Immediate Release: March 21, 2014
Federal Judge's Decision Closes Black Farmers' Lawsuit, Leaves Some Disappointed
A federal judge's recent ruling has finally settled outstanding issues in the black farmers' long-running lawsuit, nearly 30 years after I first started protesting discrimination by the United States Department of Agriculture, Congress and the Department of Justice U.S. District Court Judge Paul Friedman's recent ruling will put to rest the expectation of compensation that many farmers still hold. Our phone lines ring constantly from black farmers who either have been denied in the lawsuit's adjudication process or believe their applications to join the suit are still pending.
The deadline to join the case passed nearly two years ago, in May 2012. It took decades to reach that date, when the black farmer's bill we lobbied for over several for decades was signed into law on December 8, 2010. I wore out many pairs of shoes on Capitol Hill trying to persuade Congress to pass the Cobell Settlement legislation for $3.4 billion and the black farmers' settlement bill for $1.15 billion.
Of the 80,000 black farmers who filed late were eligible to take part in the settlement, over 17,000 plaintiffs received a $50,000 cash award and $12,500 in an IRS account to pay related taxes.
Because the settlement took decades to resolve many black farmers died waiting for justice. Many of their families are now dealing with heirs' claims. The remaining farmers received a denial letter. The National Black Farmers Association answers every call, but it's a frustrating process, for we have very limited resources and the farmers need and deserve answers.
Judge Friedman's recent decision provides clarity to black farmers who were denied in the settlement process. Read the ruling
here
.
Sadly, some of those still seeking compensation were the victims of fraud, the kind of scurrilous scams that usually turn up when a person or group receives a windfall. We get calls from black farmers who seem to think they have applied in the settlement process, despite my many warnings about
schemers who charged some farmers a $100 fee and pretended to file their claims
.
The settlement process was abused. There was no fee to file. There are no billions of dollars to compensate those who were denied in the settlement. The black farmer settlement is over and Judge Friedman's decision provided little hope for those who were denied in the process.
Our work is not finished. Black farmers still face unfair practices and still struggle to gain our rightful place in America's agriculture and food production systems. For example black farmers have yet to supply McDonald's with one egg or slice of lettuce or onion. Black families are welcomed as consumers. We're seen as good enough to purchase a Big Mac or Happy Meal but not good enough to sell to corporate producers. It's a sickening realization. This is an example of discrimination against a group of people. It contributes to the decline of the black farmer as well as loss of land.
With such injustices outstanding, I regret the need to discourage anyone's expectations, but I am obliged to provide the facts of the case. I know and understand that the judge's decision was not what the denied black farmers wanted to hear from the court. But I respect the decision. I and others worked hard and fought long to win payments to deserving black farmers. It is hurtful to know others come along and take advantage of some elderly black farmers who had already endured mistreatment by their own government.
Timeline
•
May 13, 2011
-- Preliminary Approval granted by the Court
•
June 3, 2011
-- Notice period -- Notice was sent to potential class members regarding when the Court was to conduct a Fairness Hearing to decide whether to grant final approval to the settlement and how class members could submit any comments or objections to the settlement.
•
August 12, 2011
-- Objection deadline and deadline to submit a notice of intent to appear and speak at the fairness hearing.
•
September 1, 2011
- Fairness Hearing to hear any objections and decide whether to grant final approval.
•
October 27, 2011
-- Final Approval granted by the Court.
•
November 14, 2011
-- May 11, 2012 -- Claim submission period
•
May 11, 2012
-- CLAIM FORMS MUST HAVE BEEN POSTMARKED NO LATER THAN MAY 11, 2012.
•
July 19, 2013
-- Claim adjudications -- The Court-appointed neutral third parties finished their review of all completed claims timely submitted by class members.
•
August 2, 2013
-- Computation of settlement payments -- The claims administrator computed the number of approved claims and the amount of the awards to be paid to successful class members and prepared the formal accounting required by the settlement agreement.
•
August 23, 2013
-- Approval of class counsel's motion for approval of payments -- As required by the settlement agreement, on August 6, class counsel filed with the Court a motion for approval of distribution of funds. This motion was unopposed, and the Court entered an order granting the motion on August 23.
•
August 31, 2013
-- Claim determination letters mailed by the end of August to all successful class members as well as to class members whose claims were denied checks to be sent to successful class members approximately 30 days after the claim determination letters were mailed.
---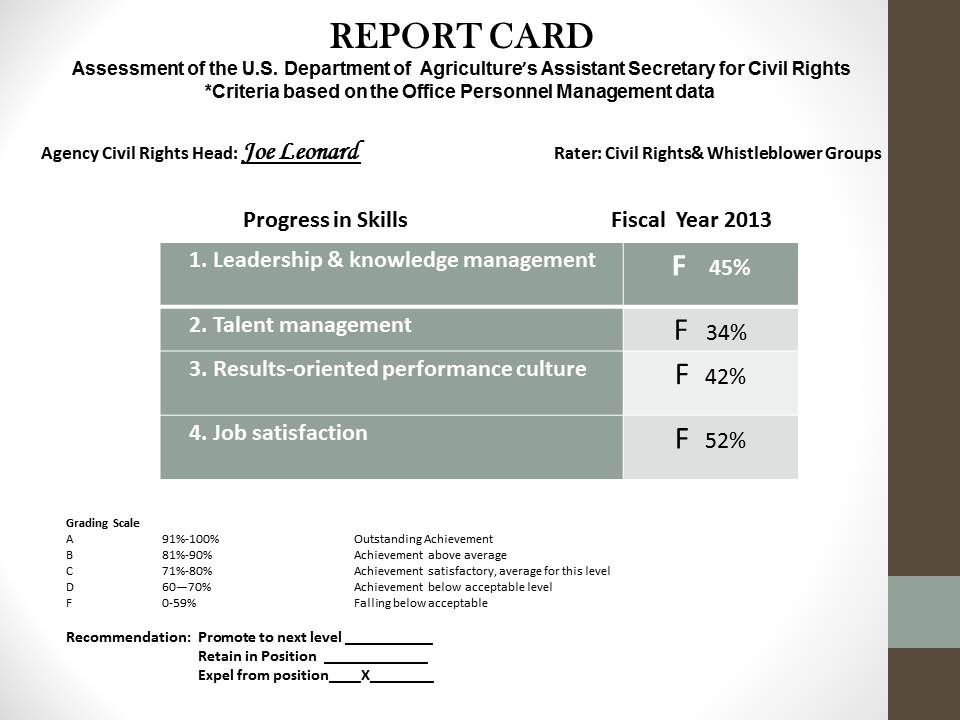 PRESS RELEASE USDA Coalition



For Immediate Release: 3/15/2013

Contact: Michael McCray (703) 743-0565




O F M I N O R I T Y E M P L O Y E E S



USDA Coalition of Minority Employees and Alabama NAACP"Stand for Justice"
with Independent Black Farmers against USDADiscrimination and Corruption



WHO:


Press Conference

Tuesday, March 19th 2013 at 10:00am Kelly Ingram Park, Birmingham, AL 35203

Out-­of-­State Reporters can join by phone at 866-­508-­2264 Passcode: 2127510



Tom Vilsack, Secretary of the U.S. Department of Agriculture (invited);
Lawrence Lucas, Presidentof the USDA Coalition of Minority Employees;
Bernard Simelton,President of the NAACP Alabama State Conference;
Michael Stovall, Independent Black Farmer; Kevin Myles, NAACP Southeast
Regional Director; Michael McCray, General Counsel for
Federally Employed Women/Legal Education Fund (FEW/LEW); and others

WHAT:

The USDA Coalition of Minority Employees has received numerous complaints from Black Farmersand Minority Employees that they continue to be denied equal treatment by the United StatesDepartment of Agriculture (USDA). There are over 3,000 unprocessed Program and EmploymentComplainants at USDA since 1990s. Black farmers are still being denied equal access to farm loans.While this discrimination is well documented, the USDA has not settled thousands of claims and hasbreached signed settlement agreements,

Many believe that all Black farmer claims were settled with the Pigford Class lawsuits. This

is untrue. There are a group of Black farmers in Alabama and other states who were discriminatedagainst when they applied for loans from the USDA. These farmers filed separate claims from thePigford group and some have received favorable judgments by USDA. However, the USDA hasreneged on the agreement they negotiated and, 10-­‐15 years later, there is still no settlement withUSDA.

The USDA Coalition of Minority Employees will join with the Alabama State Conference of the NAACPand their Southern Regional Office, Independent Black Farmers, Federally Employed Women/LegalEducation Fund (FEW/LEF); and others to provide proof to the media and the public, that USDA hasnot lived up to its promise.

WHERE & WHEN:

March 19, 2013 at 10:00 AM

Kelly Ingram Park Birmingham, AL 35203